Rocky Mountain Star Stare
1999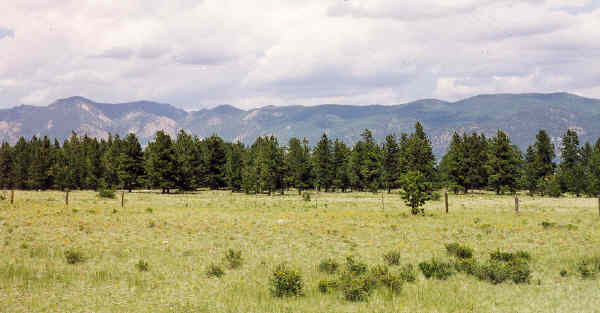 This, the 13th annual, was my first RMSS though I had been meaning to sample this gathering of telescope and astronomy enthusiasts from the time I had first heard of it 12 years before.
After setting up my campsite a fellow came by and asked me if I wanted to enter my telescope in the Amateur Telescope Maker's Walkabout to be held on Saturday. Since walking about looking at ATM projects is one of my favorite activities at these gatherings I figured why not? I would definitely like to join the walkers on a guided tour of the entries. My entry was the 8 inch f/16 Cassegrain on the right in the picture of my little camp below.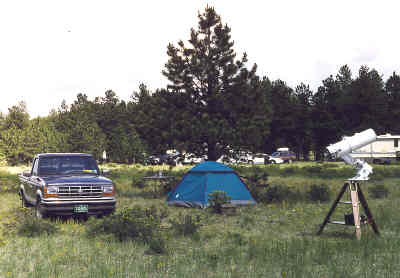 I was surprised when I was awarded a "first prize" certificate for this telescope.
For more details about the construction of this telescope click HERE

.

Dan Wray of the Denver Astronomical Society brought this beautiful 12.5 inch f/6 Newtonian on a well made polar fork mount. The picture below was taken at a later star party, but little had changed in the interrim. This is a very nice telescope and there is little if anything that needs changing. Dan took home the "second prize" certificate for this beauty.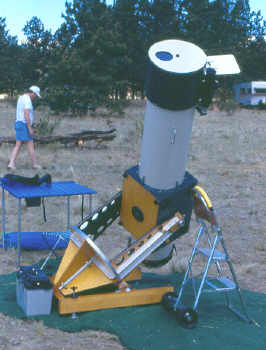 A few of the other amateur made telescopes in attendance are pictured below. There were many more that deserve mention but these are the few that I have photos of. At left is a very nicely executed truss tube alt-azimuth mounted short Newtonian. The fork mounted Newtonian at center was set up with a nice drive and motorized tangent arm declination slow motion. No one could miss the 25 inch brought by Gary Garzone at right. This telescope was a crowd magnet every night.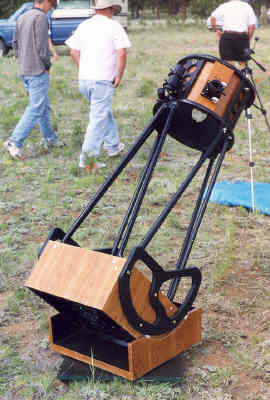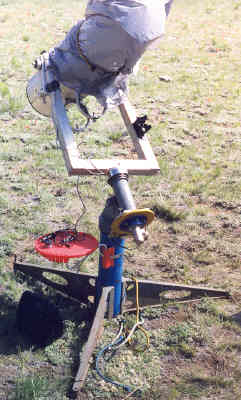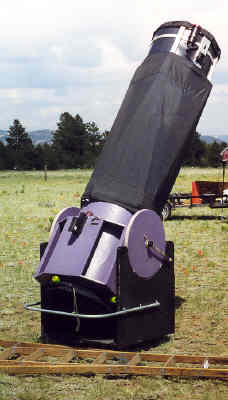 One of the highlights of the weekend was a very interesting and well attended talk about the properties of light and solar spectroscopy by Ken Florentino who demonstrated his homemade spectrohelioscope. This instrument is a shining example of what can be done by a motivated and resourceful amateur.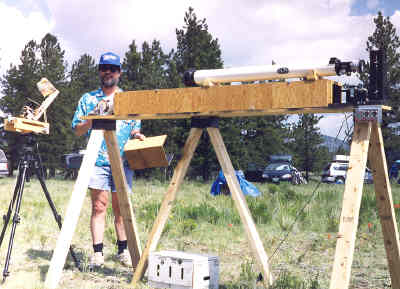 There was quite a crowd hanging around waiting for their chance to get a look at the sun through this instrument as the scattered clouds came and went. It is surprising to me that so few folks build these powerful instruments.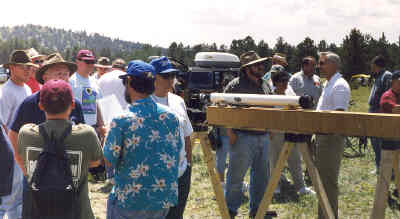 Pictured below is another interesting item - a portable observatory made from PVC pipe and a tough flexible covering (vinyl?). This well made weatherproof shelter features a rotating dome and was making the rounds to the major star parties as a commercial offering. I hope they do well.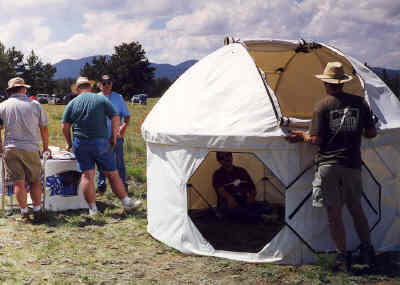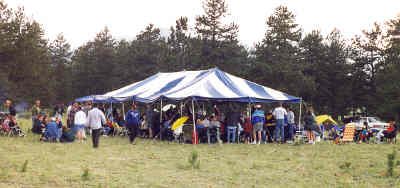 As with most star parties we had a few problems with clouds from time to time, but the stars eventually reveal themselves to those that are patient.