WUTS
(Weekend Under The Stars)
2002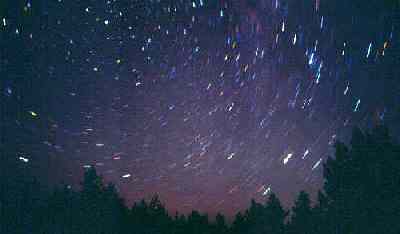 Even though there was a wee bit of forest fire smoke in the air this year it was a huge improvement over the weekend under the smoke of two years ago, and as almost always, a huge improvement over the sky conditions typical to the majority of the country's observers.
Upon arrival Thursday afternoon I was not too surprised to find an already large population of photon hungry scope-toters dug in for the duration. However I was surprised to learn that when the Curran's arrived on Wednesday they were the fifteenth to do so! Some had been there since Tuesday!
The first order of business was to get my little hooch put together. It was interesting to see a little hooch put together from native materials by some of the kids in attendance.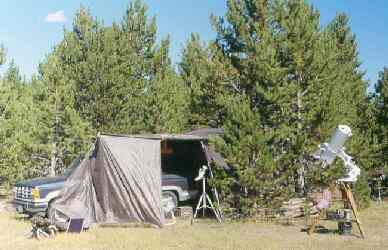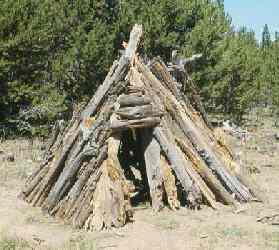 Wednesday afternoon it rained, but the sky cleared up by 10:30 or so, revealing a clear, dark, steady sky for those that persevered.
Thursday brought a dramatic increase in population, and the night was beautiful but frosty. I pooped out around midnight or 1:00, wanting to conserve a little energy for the rest of the weekend.
Friday was dry but windy, and by late afternoon the place was filling up. Friday night provided a long clear night with periods of excellent seeing. I was able to use a 7mm eyepiece (about 460X) on my 8" Cassegrain to advantage over a 10mm (about 320x) on Uranus and Neptune which doesn't happen often enough. It was pleasurable as always to show people their first view of Pluto and note its nightly motion. Once again I was reminded how useless a Telrad is for locating 14th magnitude specks of light in a field of other dim specks, when I was trying to locate Pluto in a friend's finderless scope. Face it folks, if you want to quickly star hop to little specks, a straight-through finderscope helps a LOT - you just can't see 10th and 12th magnitude stars through a Telrad, and the main scope's field is too limited.
It was pretty chilly Friday night and I heard that the temperature had dropped to about 25*F - and I beleive it. I kept going until 3:00 a.m., but there were still quite a number of people that stayed up beyond that to catch a view of Saturn after it's early morning rising, which was a great reward for the late hours by itself I hear. Views of the deep sky through Gary's 30" and the AstroSystems 32" Dobs kept them well intertained in the interrim.
Saturday was windy again, but warm as usual. There were activities for kids and sporadic kite flying (and even an R/C helicopter!). The swap meet was light as usual, but I enjoyed walking around and seeing the homegrown scopes that showed up. The best of the bunch (in my opinion) was Tim Brown's 10 inch TriScheifspeigler made of a fistfull of fiberglass arrow shafts and about 8 tubes of JBWeld epoxy, on an identically constructed alt-az mount complete with a homegrown Bartels-type stepper motor drive system. Amazing!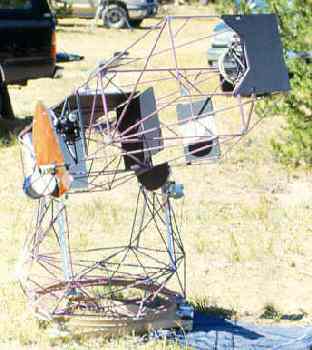 Note the little blue Newtonian finderscope at bottom of photo on left.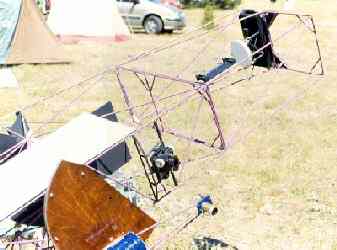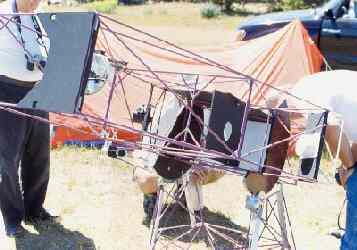 ---
Another neat idea I saw was a little Dob with a raised table (better than waist-high) built on to the rocker-box base so that maps and eyepieces and flashlights would remain with the user near the eyepiece at all times. The table even had a raised rim to prevent things from rolling off in the dark or wind. Nice.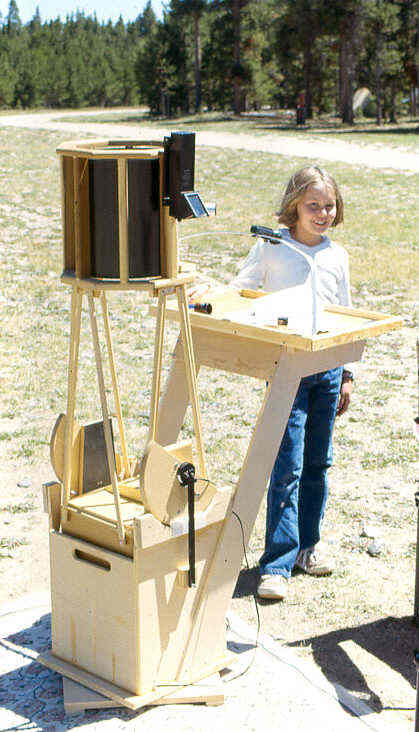 ---
John Hudec of Galaxy Optics had brought along his prototype 18 inch ultra-light. It is my understanding that these will go on the market in the near term as an ultra-light alternative to the typical plywood Dobs. The thing breaks down into just a little pile of parts not much bigger than the mirror. Efficient use of materials, that one.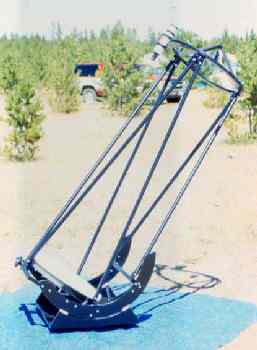 Another interesting feature of the telescope is the construction of the focuser mechanism, which is a sort of "puller" Crayford instead of a "pusher" Crayford, if you know what I mean...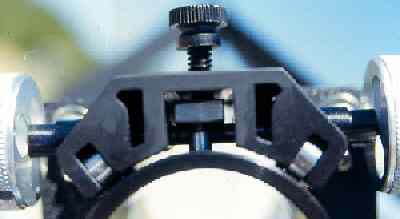 ---
Mike Hotka's secondary mirror heater powered by a 9 volt battery stowed in a film can mounted to the spider caught my eye.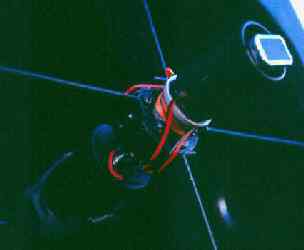 The late Saturday afternoon speakers included the annual but welcome talk on "glare bombs", energy waste, and anti-light pollution activism by the fellow from the Dark Sky Asociation (pictured at left below). These talks are very appropriate at such gatherings. This summer I have noticed that the Colorado front range, Cheyenne, and Laramie sky glow is now very noticable from Foxpark - much more than just a year ago. I can see that the time for the Dark Sky addicts to find an even further spot is just around the corner. Sad but true.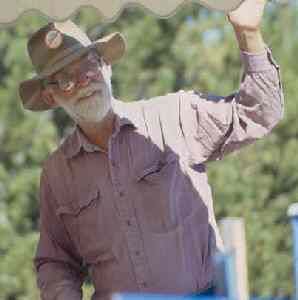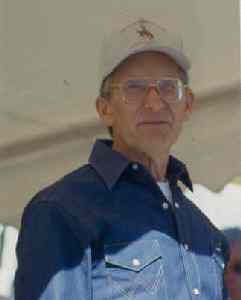 The second speaker (pictured at right) gave a fascinating and informative talk on star formation and evolution, fission/fusion of atomic elements (and a tantalizing taste of current laboratory experiments along those lines), and a possible history of the Earth-Moon system. I'm bad at remembering names (he teaches at the University of Wyoming I beleive) but the presenter was the same fellow that gave the fascinating talk that included the theory of lunar rilles and ice tunnels a couple of years ago. Neat. I suspect he is regarded as somewhat of a renegade in some academic circles (refreshing!), but he is obviously highly regarded for his work and accomplishments, intelligent, and interesting to listen to. I for one really enjoyed his talk and would like to see him again at WUTS in future years.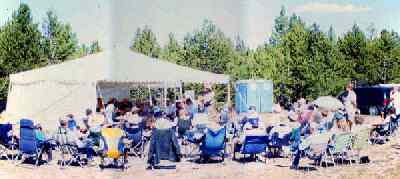 As always, the door prize feeding frenzy was well attended. Lots of neat stuff! The biggie was a 5 inch Meade Mak-Cass on a computerized go-to mount with field tripod - I hear it's about a $1200 item - not bad for a $10 attendance fee, eh? The lucky winner of that sweet little snack plans to add a H-alpha filter to it for some up-close views of solar action too. Nice!
Saturday night brought out multitudes of newbies getting their first dose of old photons. It is good to see such interest. An early-evening overhead pass of the space station brought out a round of applause from all over the field that stirred a curiously patriotic/community-oriented sort of pride-like feeling in my chest. Refreshing. The transparency was great, but the seeing went soft pretty early in the night, though there was plenty of dark sky and bright Perseid meteors to keep me going until 4:00 a.m., a bit after Saturnrise. Those nice, bright, slow meteors made up a bit for July's lack of fireworks.
Sunday morning was an enjoyable morning of solar viewing and hobnobbing with groggy astro-hounds as they lazily packed up their toys and slowy slipped away. By early afternoon only ten folks remained in six groups - four in the south field and two in the north. The breeze was fairly mild and I enjoyed lolligagging around in the woods and fields and "working on my tan" - (dozing off in the Sun and getting a mild sunburn on my legs and chest which helped keep me warm after sundown). Oops.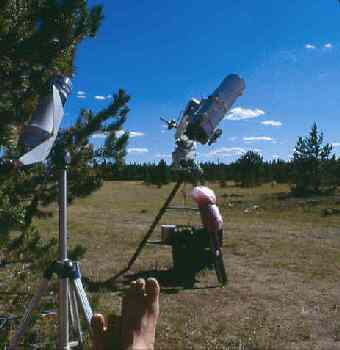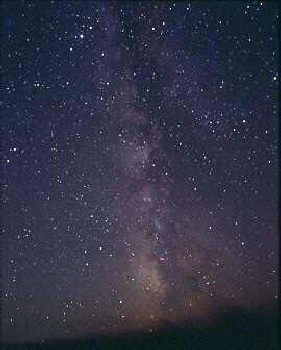 The early evening was warm but cloudy with only Venus, the Moon, and an occaisional bright star to see, but by 10:30 or so things cleared off nicely with only intermittent clouds and I was able to get some extra film exposed to some deep-sky targets on my list and view some really great meteors.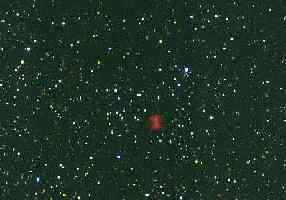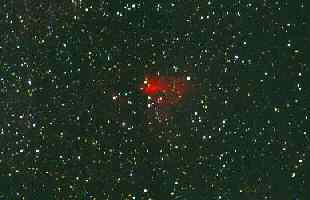 During the lonely vigil of guiding exposures in the wee hours, it was a little disconcerting to hear sneaking creaping sounds in the woods and a squirrel complaining about it from time to time - especially since within less than 100 yards into the woods there is ample evidence of local critters that eat critters.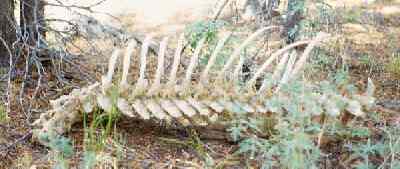 Fun time!
Thanks again to the CAS and LASSO and the volunteers that selflessly put this thing together every year.