Rocky Mountain Star Stare
2004
the UNofficial Report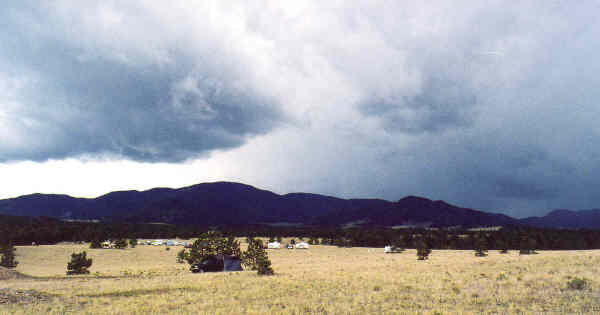 Like the WUTS star party of last summer, this was one of the wettest star parties in recent memory; but the poor weather wasn't enough to dampen the spirit of this fine gathering of the finest of astro-folk. Those that persevered were rewarded with one of the best nights of the year so far.
---
Thursday
Driving west from Woodland Park the sky over the observing area was as dark as doom itself. On the approach to Florissant I was greeted with torrential rain and hail which soon stopped, but a white patch on road 77 retained the evidence of hail at the observing site. After registration the first order of business was to find my campsite and construct a good roomy weatherproof hooch.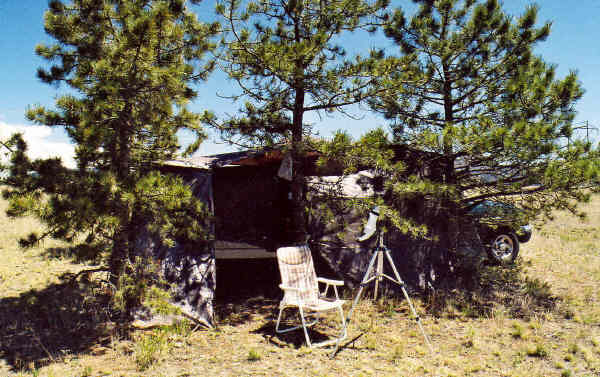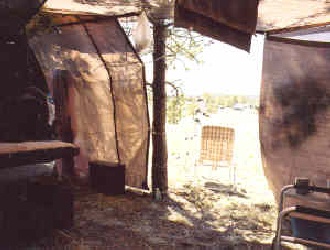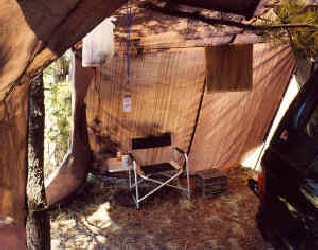 With a good view out the front door of course.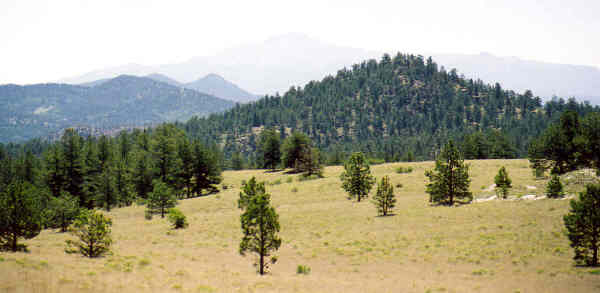 This was quick work since my normal spot at Wolf Run is on a rise fairly off the beaten path and is always vacant when I arrive. The hooch was completed in time to watch another thunderstorm roll across the area. Around sunset there were a couple of clear but murky patches of sky which enabled a 10 or 15 minute view of Jupiter and a tantalizing view of a couple of bright stars, but it soon clouded up completely by 10 PM and most folks hit the sack by midnight.
---
Friday
At 5 or 6 AM the area was still covered by mist and a foggy low cloud cover which lifted to a grey overcast by 7 AM. By 7:30 there were bright patches of sunlight trying to burn through that resulted in 2 or 3 blue patches and some sunshine by 9:45. By this time there were around 40 vehicles present and the weather permitted a dry 1/2 hour walk around the field which enabled the first look at the telescopes present and a visit to the local T-shirt vendor. Out came the ever-present radio controlled model airplanes and kite flyers...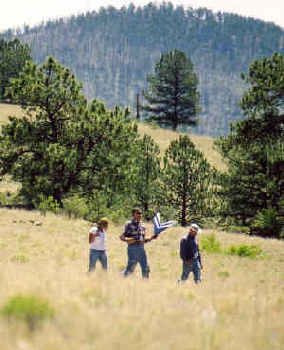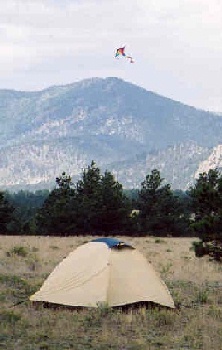 ...but by 11:30 the first thunder of the day was heard. This was followed at noon by a thunderstorm which cleared up and passed on by 12:45 allowing a good view of some nice suspots by 1 PM. The rest of the day's weather was a constant march of thunderstorms that progressed like this:
1:15 - Heard first thunder of next impending storm
1:40 - Lightning show
1:45 - Wall of hail marches across field
1:53 - Sunshine
2:06 - Hear thunder of next storm
2:50 - First drops of rain
3:06 - Sunshine
3:20 - Hear thunder of next storm
4:00 - Clouds up for the evening...
My main activity of the day was photographing lightning bolts, which requires patience and quick reflexes.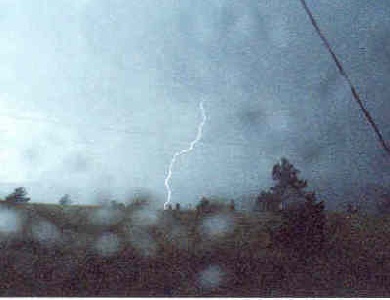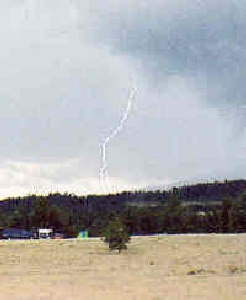 ---
Saturday
The morning light at 6 AM revealed fog and low clouds lingering from the previous evening which burned off by about 7:30 leaving only scattered clouds and a pleasantly cool breeze for the remainder of the day. The morning was spent yakking and hunting the increasingly elusive home made telescopes and visiting the tables of the vendors present, which included:
A-D INFINITEES - T-shirts, sweatshirts, and hats - excellent beautiful designs - some glow in the dark (I couldn't resist)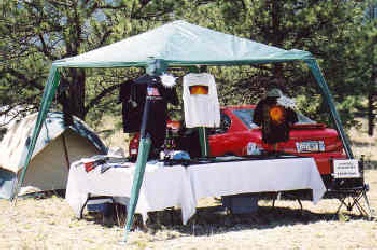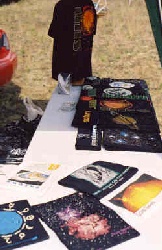 Astrosystems - ATM parts, Telekits, eyepieces, laminated starcharts, and a wonderful variety of jewelry - meteorite and otherwise,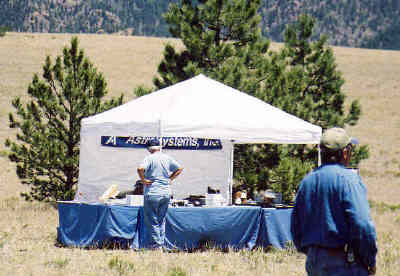 S&S Optica - which had on hand a wondrous variety of solar observing gear including several brands of H-alpha imaging equipment.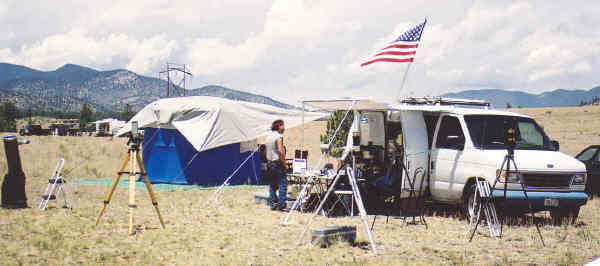 One of these items is sure to be big a seller. By noon or so I heard that they had already taken orders for 4 or 5 of these. This is a 40mm H-alpha scope made by Coronado Instruments that features a tunable filter and a very slick built-in finder - a tiny spot of sunlight that you center in a little window mounted in the body near the eyepiece. This little item (the gold-colored gizmo on a camera tripod visible at far right in the image below) is called the PST (Personal Solar Telescope) and runs around $500 (about 1/7 the price of the next step up) and provides a very decent view of the sun.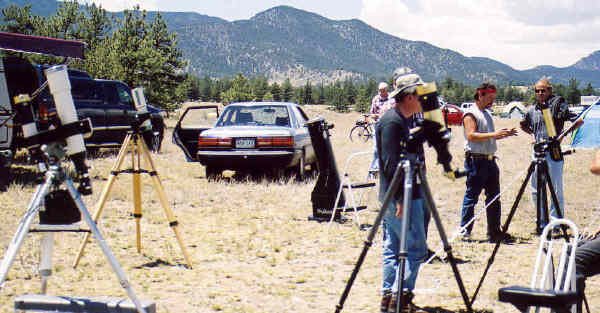 This'll sell like hotcakes, I'm sure. Very nice. (Can you spare a dime, anyone?)
Affordable Equatorial Platforms - Art was kind enough to volunteer to handle the registration this year too, which is a lot of work and deserves much thanks.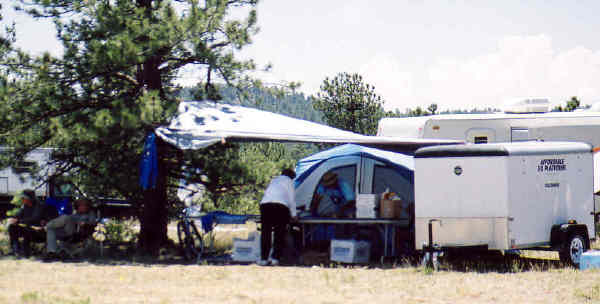 ---
The swap meet commenced in earnest at 1 PM. There was plenty of good action with eyepieces, mounts, drives, mirror blanks, batteries, and books changing hands. Unfortunately, I brought nothing to trade this year but cash, of which I now have none...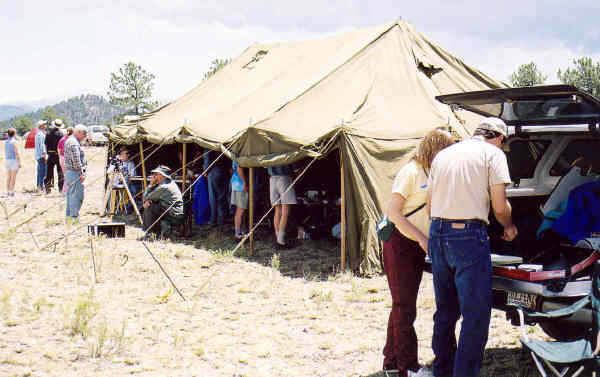 ---
2 PM brought the gathering of the walkers for the ATM Walkabout

.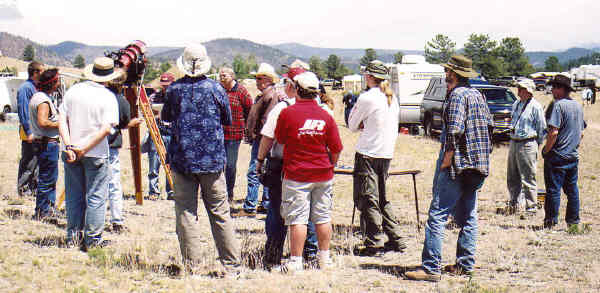 Once again, this year saw very few entries. In fact I think most entries were made simply because there were so few (only 1 as of Friday afternoon) but this didn't stop the walkers from having a good time anyway.
Here are the highlights that come to my mind, along with my personal ratings which are NOT to be taken as the official word of the judges.
The BEEFY! award goes to this CU student's homemade equatorial wedge for a commercial SCT.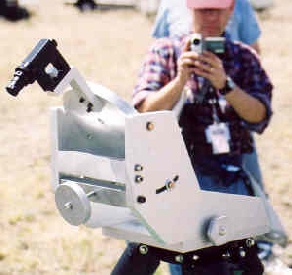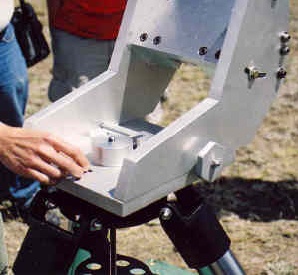 This bruiser is made from 1 inch aluminum plate, held together with numerous grade 8 bolts, and features fine adjustments in altitude and azimuth. It was machined on a CNC mill as a programming project. Note the polar finder on top. In my mind, overkill is always authorized.
The Best Seat in the House Award goes to this binomount/chair a fellow built for his daughter's observing pleasure.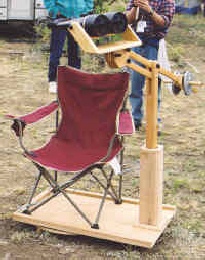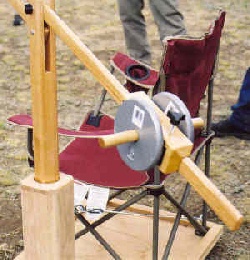 It is built on a lazy-susan bearing and supports a chair as well as an instantly removable swing-away parallelogram binocular support. The counterweights are retained by velcro and adjustable as needed. Very nice woodwork. This was this fellow's first woodworking project and resulted from sticker shock when shopping for a commercial binomount. Good man. A true ATM'er.
The Slickest Accessory Award has to go to this fellow from Amarillo for his side-mounted eyepiece/binocular tray, which is mounted on a wooden dovetail and can slide down and toward the eyepiece end of the telescope when pointed near the horizon, and up toward the center of the scope when pointed toward zenith, keeping eyepieces and binocs within easy grasp no matter where the telescope happens to be pointed. This whole assembly lifts off the telescope and stores neatly in a large airtight ammo can, eyepieces, binoculars, and all. Very cool. (Disregard the white pole in the foreground, which is not part of the scope.)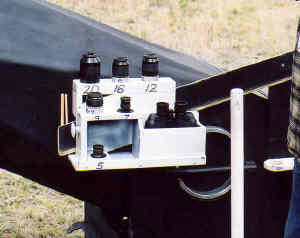 The Made for Mobility Award goes to the same fellow for this wheeled assembly which rapidly attaches to his big Dob enabling rapid and easy transport of the telescope up the ramp into the trailer (which by the way is also homemade and features an 1800 BTU propane heater, side doors, and wheel bearings from a 1929 Buick). It features large wheels for easy movement over uneven surfaces and instant attachment to the base of the telescope via the welded-on visegrip.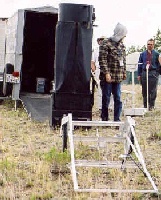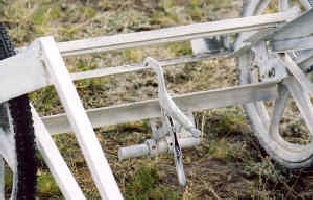 The Spare Me a Hernia Award likewise goes to the same Amarillo fellow for his design and implementation of a double trailer tongue, which enables lowering the back end of the trailer without unhitching the trailer from the vehicle. VERY good idea! This results in only a slight incline to push the telescope up into the trailer. I wish I had a picture, but it was at this point that I ran out of film (gotta go digital one of these days).
---
Kid's activities included an olympiad and a solar system model made of toilet paper(?). Huh?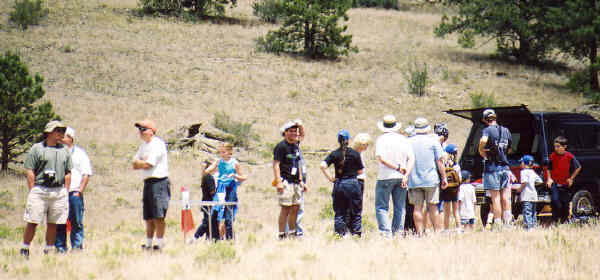 Fortunately, this afternoon's thunderstorms went around our area and not over it as on previous days. Only a couple of quick light sprinkles were felt in the early evening during the doorprize giveaway (big thanks to all you donors out there) and the raffle drawing (zoom Nagler eyepiece).
That well-attended gathering was followed by a very interesting talk on orbital mechanics by Steve Bygren and a demonstration of his powerful and easy-to-use satellite tracking software Predator that not only identifies satellites but will do a query and tell you what satellites are overhead at any given day or time for your area. This is very nice and is available in a freeware format HERE , or you can link to it from the CSAS website HERE (Follow the EOSOS link). I highly recommend that you check it out - it's about a 2 meg download of a zip file.
The final talk of the evening was cancelled because they were running late and the sky foretold of the single impending clear night of the party, which turned out to be one of excellent transparency and very decent seeing conditions with narry a puff of a breeze.
The field was allegedly patrolled for white light infractions by the soak-blaster-toting Enforcer pictured below.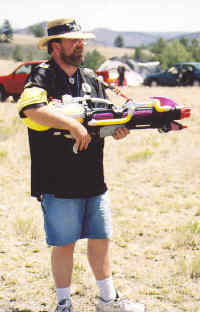 Many fine views of a splendid sky were had by all, in spite of dropping temperatures after midnight and increasing dewing conditions. The Milky Way blazed overhead throughout the night and I was able to find many dark nebulae in the far south of Scorpius that I had never seen before.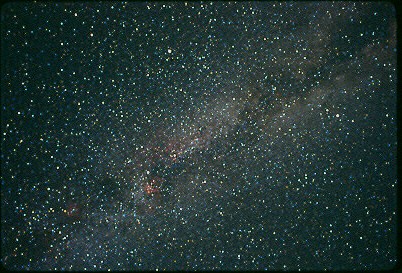 One of my personal highlights of the evening was watching the intense lightning storm that hammered Colorado Springs before midnight - a beautiful continuous show from our point of view that was highlighted by a bright slow meteor at one point.
---
Sunday
- dawned clear and bright with a handful of scattered clouds on the horizon that dissipated completely by mid-morning leaving a blue pristine sky and an occasional wisp of a breeze. Most of the attendees had packed up and left by 10 AM but many hung around for the rest of the day. I will assume that a few remained for another night as usual.
It was estimated that only about 200 people showed up for this year's event, probably due to the scary weather conditions that blanketed the front range all weekend, but for those that ventured, a fine time was had indeed. Once again, many thanks to the CSAS organizers for a well-done event.
Thanks Guys!